What kind of textile to buy 
Opt for shopping for textile fabrics only if you are highly knowledgeable about the same or have a local to guide you. You need someone who can point the different patterns like eternal knots, double thunderbolts, swastika, tree of life, bird's eyes etc in the textile items and can differentiate between Yak wool/ sheep wool/ pashmina in warmer fabrics and can identify pure silk weaves. Helped by a local, you can visit independent weavers or shops and can buy weaves at a lower price. If you do not have a local helping hand, it's best to visit a Govt operated outlet.
A standard choice otherwise is to buy a Gho and Kira (traditional men's and women's Bhutanese robes) or a Kabney/ Rachu (ceremonial scarf for men and women). Ghos and Kiras can have many kinds of weaves like Shinglo, Lungsem, Pesar, Alkapur, Kam Dhuem, Adha Marthra, Nagsham (my personal favorite… explosion of colors on a black background) etc some of the more ornate kiras are of the Jangserm, Marsham and Ngo Sham styles.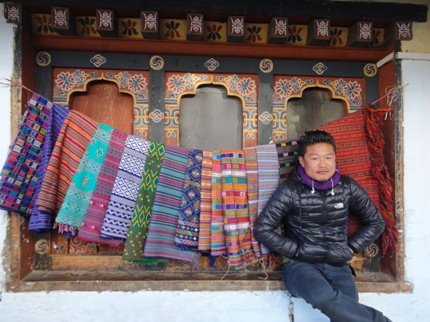 A single high quality Kira made by a weaver takes 2 to 3 months and 8 hours of labor per day. Unsurprisingly, its highly priced at nearly 10,000 USD.
Shawls made of Yak wool, pashmina and sheep wool are also a good buy in Bhutan and I personally found Paro to be a better option for shawls than Thimphu. You must be a little persistent with your bargaining skills though. You will find embroidered, weaved and plain dyed versions and there is usually a high explosion of colour in all of them.
You can buy a high-quality Bhutanese Weave and then use it as a wall hanging like the picture below
 Textile Stores in Thimphu 
Check out any of the craft stalls in Norzim Lam near Taj Tashi. You will surely hunt up a great bargain and there is an amazing range of fabrics and other crafts on offer. Sephub Gyeltsen Tsongkhang is a good shop and the Gho's and Kira's are available between 2000 NU to 3000 NU (silk look alikes). You will also find waist coats and garments
National Handicrafts Emporium (in Norzim Lam) is a good choice for buying textiles.
National Textile Museum has its own retail outlet which has a good collection. Address: Norzing Lam, Thimphu, located near National Library, Phone: +975 2 336 460
Gagyel Lhundrup Weaving Centre: This is a privately-owned weaving center but holds very good repute. You can watch weavers at their craft here and get a demonstration of different kinds of fabrics. Location: Changzamtog, Southern Thimphu